There are shelters for dogs and shelters for people, but in King County, Washington there are no public shelters for both.
Where do homeless people with pets go?
Critics argue people unable to take care of themselves cannot take care of a pet, but advocates say many people, hungry, will feed a pet before they feed themselves.
Animal News Northwest began an ongoing photography project to answer this question.
We started at the Doney Memorial Pet Clinic, a one-of-a kind place in downtown Seattle, where low income and homeless people and their pets can get vaccinations and basic veterinary care twice a month. The clinic, run by volunteers and donations, operates out of a basement in a downtown public shelter. On one particular afternoon there a whopping 189 animals came through in three hours. 70 received vet care, others were given supplies and food for their pets.
We also visited  SHARE/WHEEL tent city 3 a safe community where a limited number of pets are allowed to live with their owners.
This project was partially funded by 4Culture, Arts Projects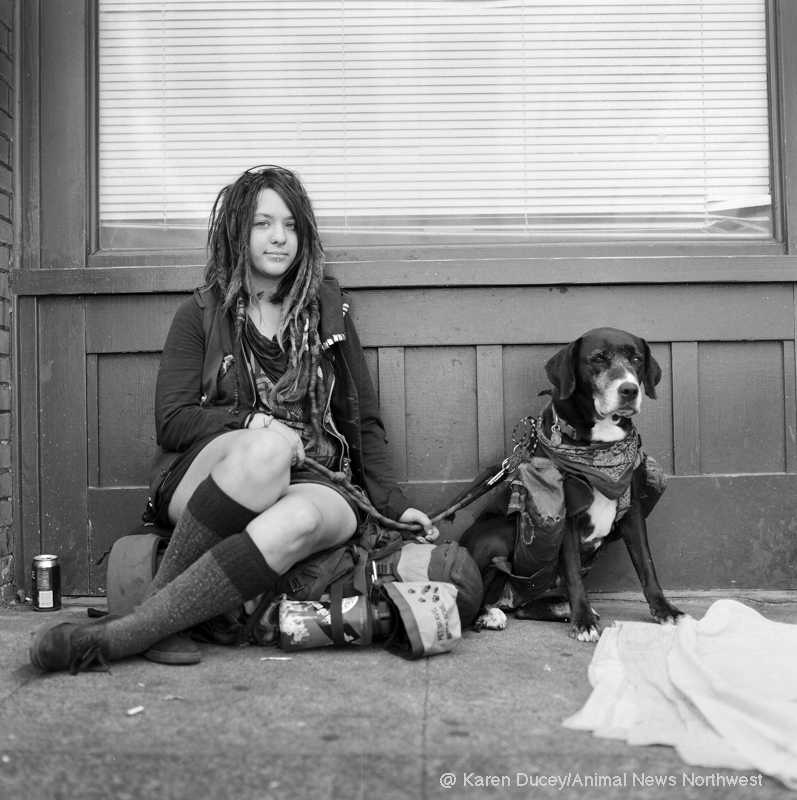 Katie and Molly
"I travel." says Katie Harris from Ohio as she describes her life on the road with her companion Molly, a five-year-old black lab mix in Seattle, Wash. Harris had found Molly on a farm in Indiana. "Me and her hitch hike across the country and ride the trains." she said. Harris says it's easier to find rides when you have a dog.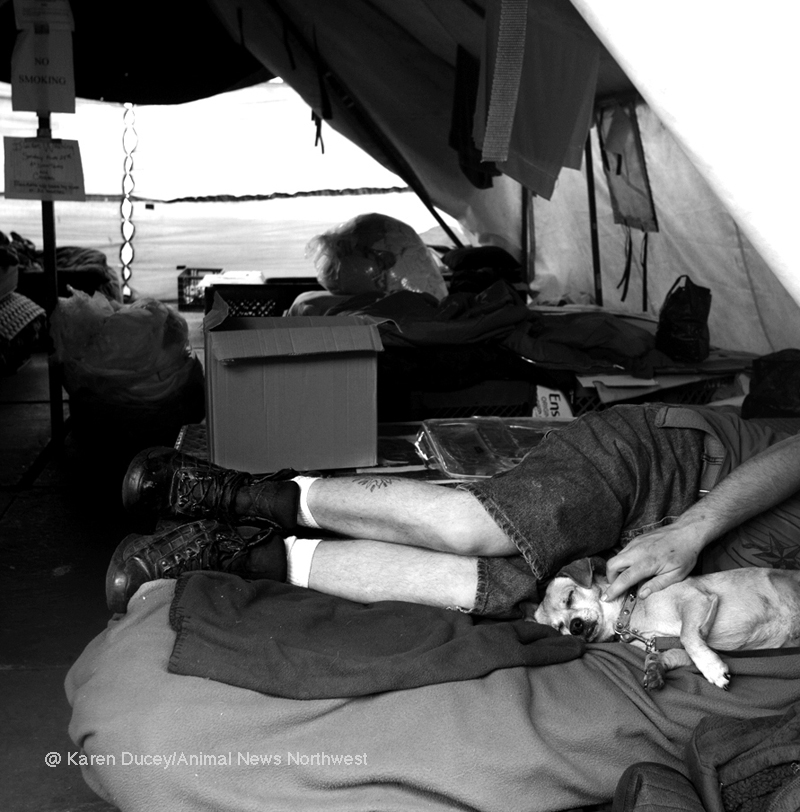 Daniel and Bear
Daniel Lauer, rests with Bear, his nine-year old Chihuahua, in Tent City 3 in Seattle, Wash. Bear is one of 9 animals that live in the homeless encampment, Tent City 3 in north Seattle.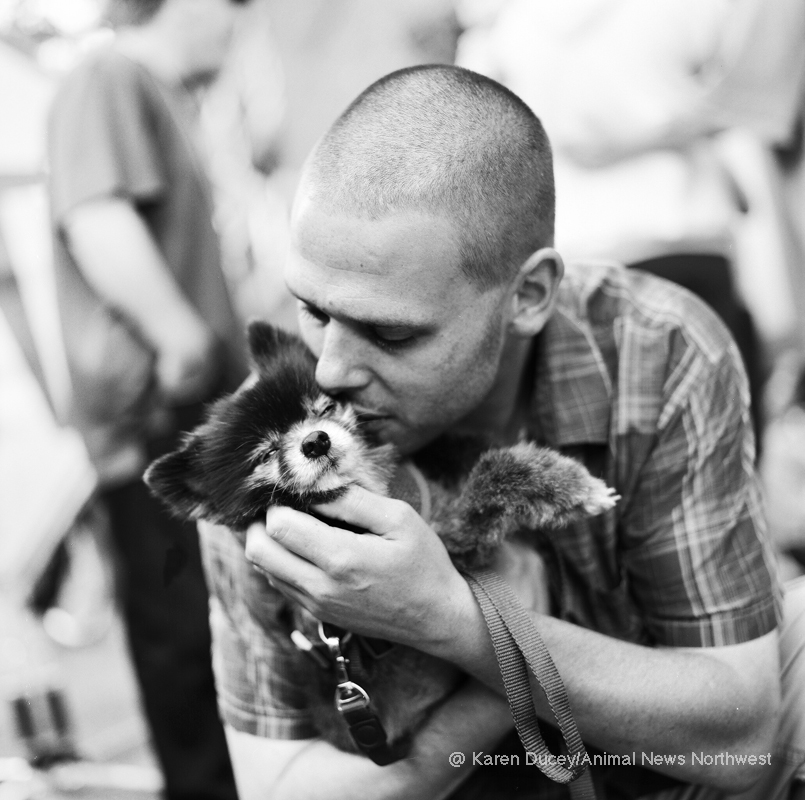 Michael and Harry
Michael Ranetta from Seattle, Wash. hugs his dog, Harry, a nine-year-old Toy Pomeranian outside the Doney Memorial Pet Clinic. Harry was originally Ranetta's aunt's dog but after she died he adopted him. Ranetta says Harry is a service dog and has him for companionship.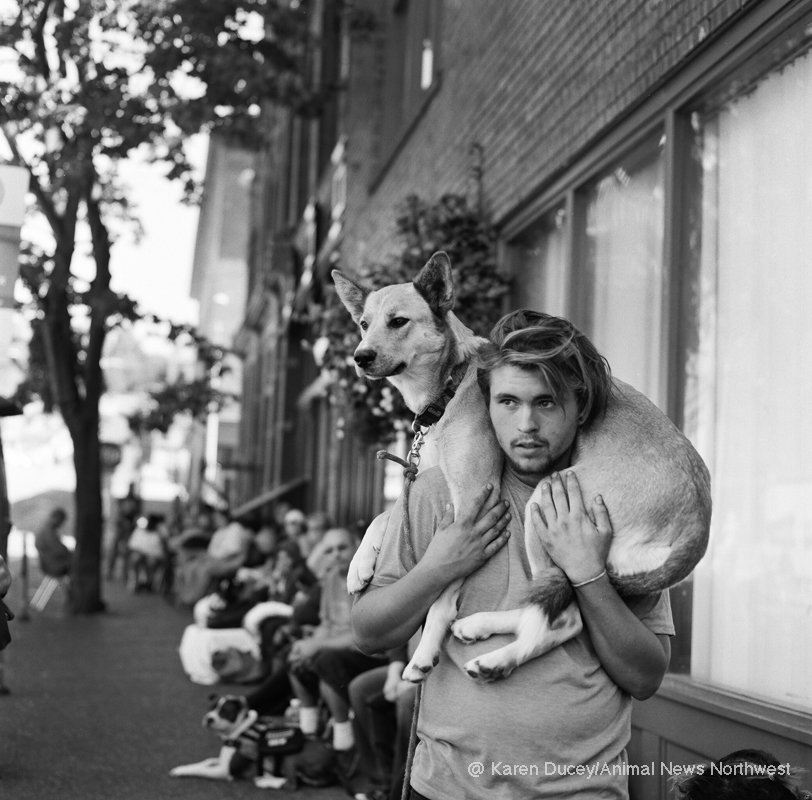 Dillon and Katara
Dillon Green, from Seattle, Wash. holds his dog, Katara, on his shoulders while he waits in line with over a hundred other people and their pets at the Doney Memorial Pet Clinic outside the Union Gospel Mission. Green got Katara as a one-month old puppy from his sister. He sleeps under a bridge with friends. He is upset with the county animal control service who gave him a ticket for letting Katara run off leash in a park. He says he can't fight the ticket because there is a warrant out for arrest, but he can't afford to pay it either. They came to the Doney Clinic to get Katara some shots after she was bitten by a rat the day before. When he needs to punish her Green says he holds her snout shut and bites her over the nose when she is bad "which is all the time." He says "She has to be well behaved because I'm homeless and I can lose her if she misbehaves."
Jhniva and Gatsby
Jhniva Chapman (left) and Jason Cantrel are concerned about a rabbit they found which they named Gatsby. "He was going to get run over until I saved him," said Cantral. They brought him to the Doney Memorial Pet Clinic where a vet trimmed his nails.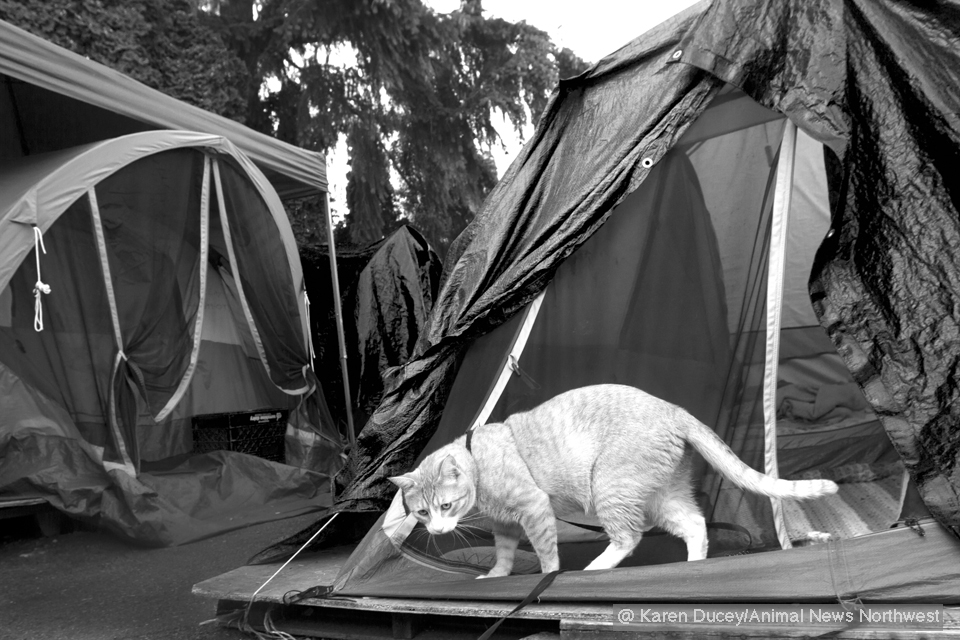 Butters
Butters is one of three cats and six dogs who live in Tent City 3 in Seattle, Wash. The homeless encampment is one of the few places people with pets can live together.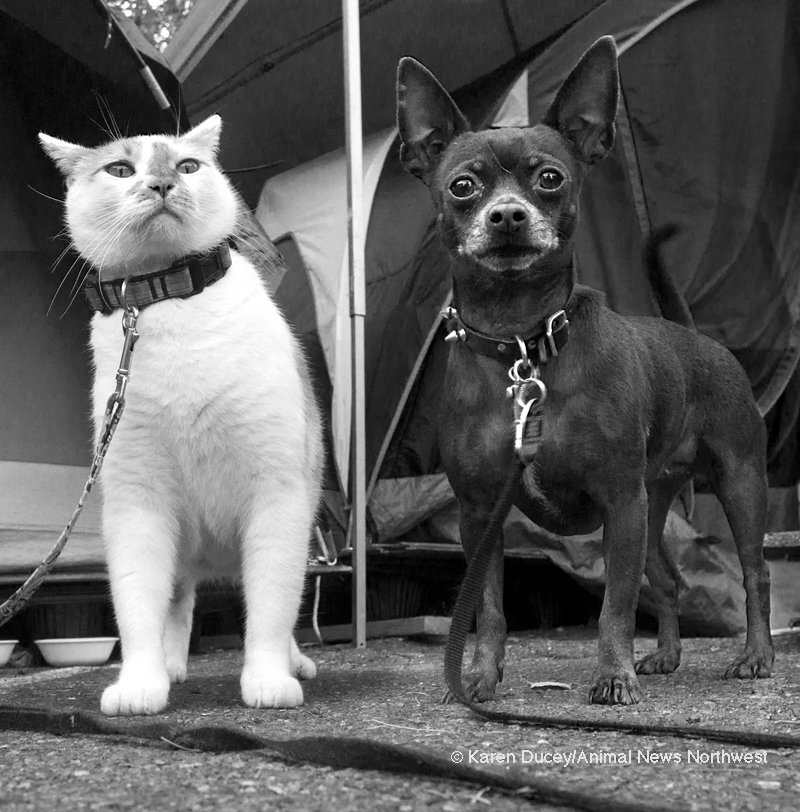 Ren and Coco
Siblings Ren (left) and and Coco really don't like each other. They belong to Tent City 3 resident, Jennifer Ingeham, who acquired them from someone else, and have lived in tent city longer than she has. Ren, age 4 and Coco, an aggressive three year old Chihuahua are the most important things in Ingeham's life. Having had issues with depression Ingeham says "No matter how bad it gets you still have to get up and walk your dog." Ingeham makes a little bit of money but relies on donations to the homeless camp to feed her pets. Her biggest fear is coming up with money for emergency vet care if one of her pets gets hurt.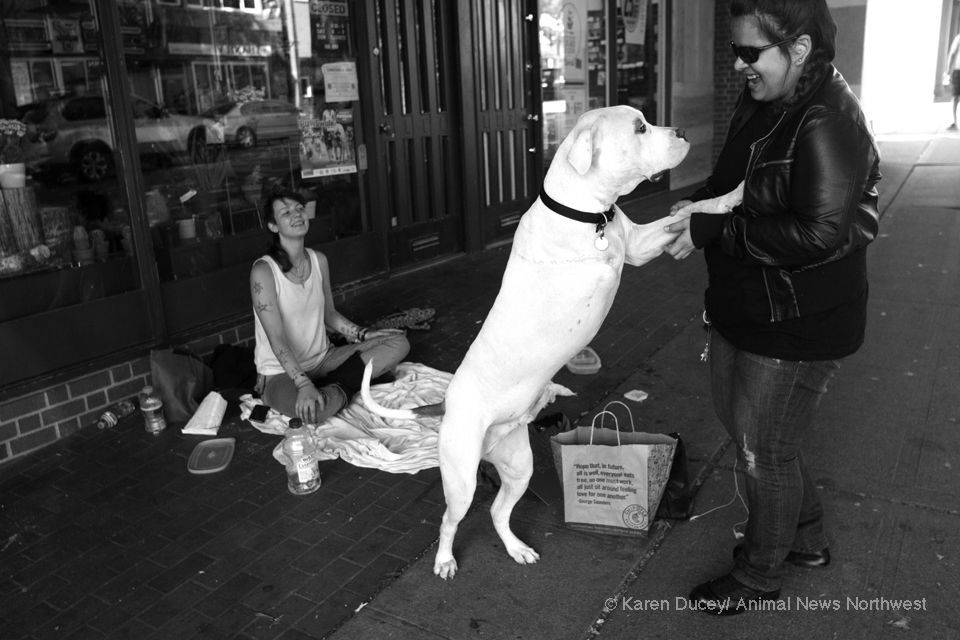 Caitlin and Hanai
Angel Balai (right) gives $5 to Caitlin Hamilton, age 24, and her dog Hanai, a three-legged Boxer, in Seattle, Wash. Balai says "I know what its like to be homeless. I give like 5 bucks or 20, whatever I have with me. Its always nice to help out." She also gave them her leftover food which Hamilton gave entirely to Hanai.
Hamilton has been living on the street for eight years. She found Hanai on Craig's List when she was in Montana. A seven month old puppy at the time, he had a dislocated shoulder, a fractured elbow, and atrophied leg on his right side which she later had amputated. Veterinary clinic, Companion Pet, performed the $1,200 surgery free of charge. Hanai is certified as an emotional support animal for Hamilton who was brutally assaulted four years ago.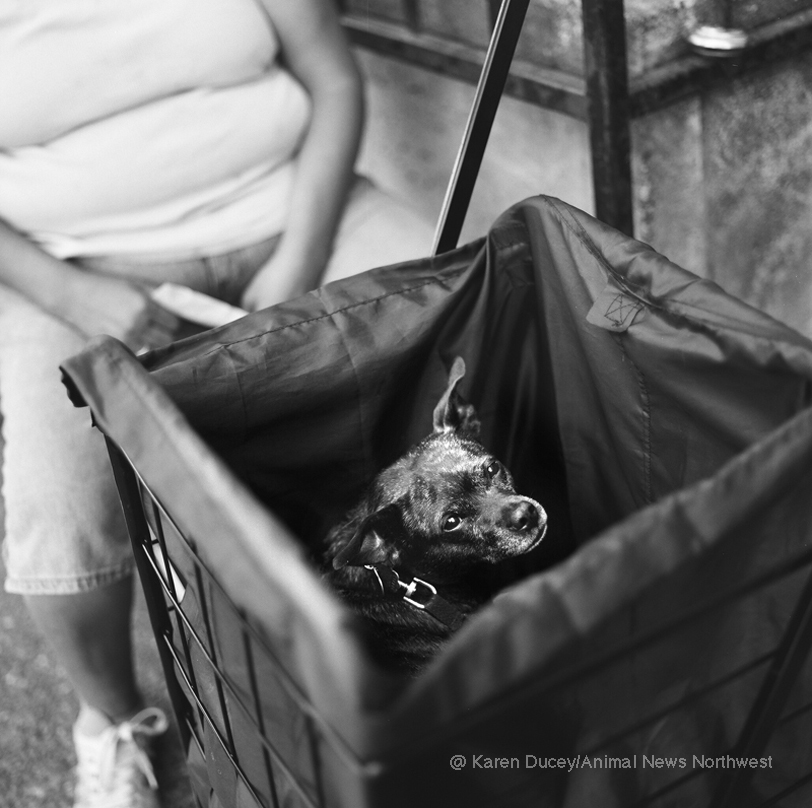 Dani and Baby
Baby, a six-year-old Chihuahua mix, pears out from inside a granny grocery cart, as she waits with her owner, Dani Gonzalez, from Burien, Wash. to be seen at the Doney Memorial Pet Clinic. "I love this place." said Gonzalez. "Without it I couldn't afford to get her spayed." The clinic does not perform surgeries but does give out vouchers for critical veterinary care when needed.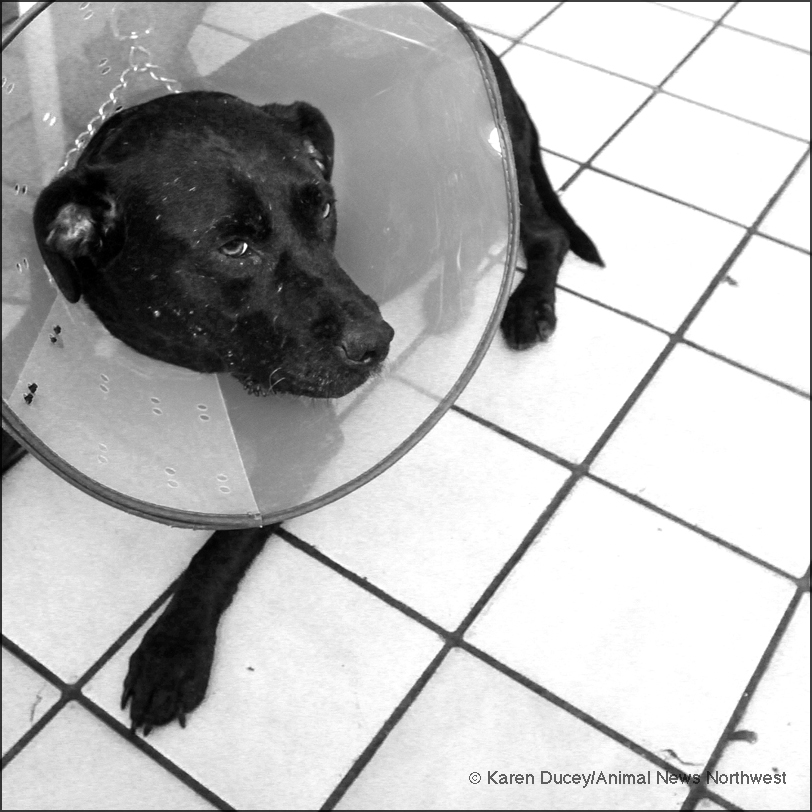 Unidentified
A dog with a choker collar and cone around it's head waits to be seen by a vet at the Doney Memorial Pet Clinic in Seattle, Washington. The person with the dog said the dog belonged to their sister and didn't want to be interviewed.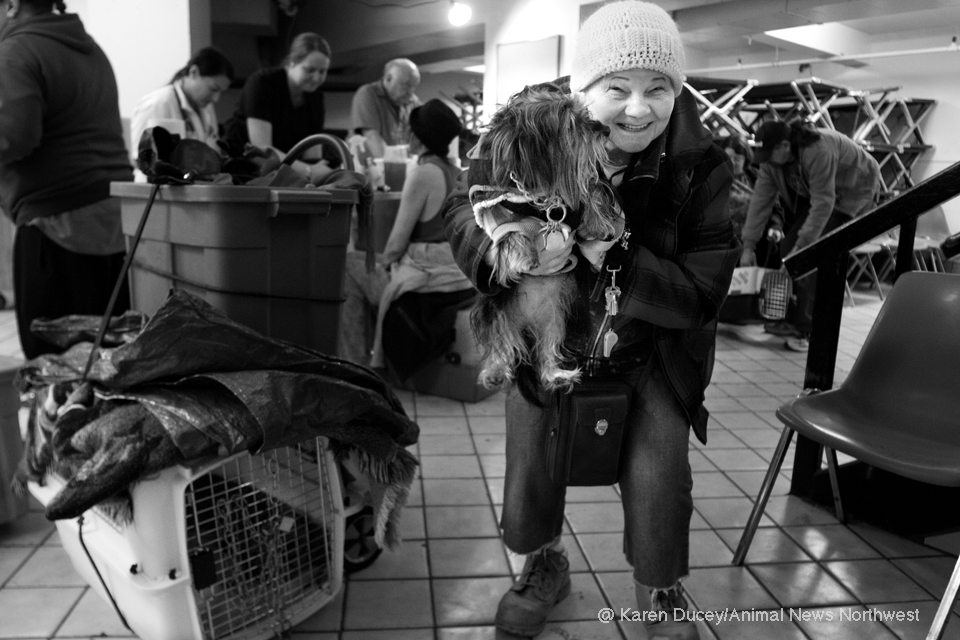 Smiles
A woman visiting the Doney Memorial Pet Clinic is all smiles after her dogs' nails were trimmed. She keeps her dog locked in crate secured with chains.

Many thanks to King County 4Culture for their partial funding of this photography project
and to Gary Jentoft and The Studio News for use of his medium format camera equipment.
Last year during the one night count 3,772 people were outside living on the streets in King County. Many more stories need to be told. If you would like to keep "You Are My Home", and other projects going, please consider making a donation to Animal News Northwest, SPC and Karen Ducey Photography.
All photographs © Karen Ducey Photography/ KarenDucey.com